Hurricane Charts by OceanGrafix
Tracking the storms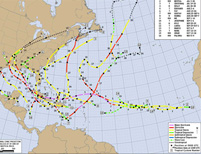 While the inland effects of hurricane activity are well known, the impacts to waterways can be equally as dramatic. In fact, Hurricane Katrina alone accounted for as many as 300 obstructions to navigation as charted by NOAA.
Hurricane tracking charts by OceanGrafix allow arm-chair storm chasers and nautical enthusiasts to track and record storm progress throughout the hurricane season.
For more information about a chart simply click on one of the regions below.